In MEMORIAM
Sherrin Ann Smith VIEW PROFILE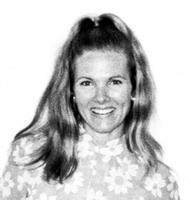 Date Of Birth: 11-05-1942
Date Deceased: 09-02-2023
Age at Death: 80
Cause of Death: Natural causes
Classmate City: Miami
Classmate State: FL
Classmate Country: USA
Survived By: Brother Scott Smith, wife Janice of Newcastle, Maine

reported by Brotther Scott Smith
Homstead, Florida - Sherrin Ann Smith peacefully passed away in the early morning hours of September 2, 2023, while living under the benevolent care of Sunny Hills Assisted Living Facility in Homestead, Florida. She had been in a long period of declining health, and was comforted by the loving and compassionate Vitas Healthcare Hospice professionals.

Sherrin was born in Miami on November 5, 1942, the daughter of Easter and Jane Smith. She loved to tell everyone she was born in the original Jackson Memorial Hospital. She was proud to be a true Miamian, living there all her life and enjoyed telling stories of her experiences in "old" Miami. Active in sports from an early age, she participated in bowling leagues in the 1970s at the Colosseum Lanes and playing team tennis at Salvadore Park in Coral Gables. She attended Miami Senior High, as did her mother. Graduating in 1960, she was one of the first groups of students to attend the newly opened Dade County "Jr." College.

Sherrin was born to volunteer and assist people. Everything she did in her life revolved around that. Having dreams of traveling and being a flight attendant she jumped at the chance to work in the 1964 New York World's Fair, and the Expo 67 in Montreal, Quebec. She worked numerous trade shows and conventions, along with the famous annual Orange Bowl Festival. Another love and passion was gardening and plants. She became involved with the Tropical Fern & Exotic Plant Society, helping with their membership and numerous events. She was a well known advocate for the Little Gables Neighborhood Association, volunteering to be their VP of Community Affairs and liaison with the Miami Dade Police Department.

Sherrin transitioned to being a well respected professional personal assistant and house / pet sitter. She developed a deep passionate caring love for animals, dedicating her life to their well-being. She was always assisting with the lost or stray ones. Sherrin worked in close collaboration with The Cat Network of Miami. Honoring her memory, friendship and love of animals with a donation in her name to The Cat Network would be welcomed. Sherrin is survived by her brother, Scott Smith and his wife Janice of Newcastle, Maine, as well as many lifelong caring friends and neighbors where she lived for so many years, the "Little Gables".
https://www.legacy.com/us/obituaries/herald/name/sherrin-smith-obituary?id=53142279
Click here to see SHERRIN ANN's last Profile entry.